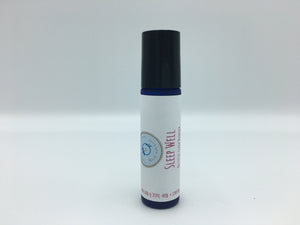 Sleep Well - Restful Sleep Remedy 10 ml
Regular price $26.95 Sale
Designed to help you de-stress and sleep better.
Apply essential oils where blood vessels are closest to the skin's surface, such as wrists, temples, chest, neck and the soles of the feet. This technique allows for quicker absorption, helping essential oils get to work faster.
How to Use:
To promote restful sleep, roll onto soles of feet before bed and put on socks to prevent from transferring to your sheets.
For prolonged use, consult a health care practitioner.
Ingredients: *Organic
*lavender (lavandula angustifolia)
*orange (citrus aurantium dulcis (orange) peel oil)
 *red mandarin (citrus reticulata (tangerine) peel oil)
*chamomile (Matricaria chamomilla L)
 vetiver (vetivera zizanoides)
*marjoram (origanum majorana leaf oil)
 *Grapeseed oil (

Vitis vinifera)