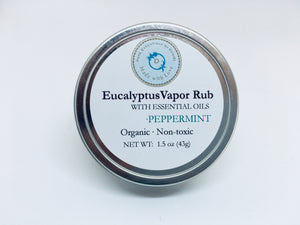 Daniel's Organic All Natural Vapour Rub 1.5 oz
Regular price $17.00 Sale
A unique seasonal offering!  Who says that Vapour Rub has to be full of chemicals, additives, and gagging fumes that are questionable for your health?  This fall and winter season, treat yourself (and your family) to a healing botanical rub that actually smells beautiful and delicious as much as it is powerful in botanical healing power! 
Ingredients:
*Sunflower Oil (Helianthus annuus), *Coconut Oil (Cocos nucifera), *Castor Oil, *Beeswax, *Eucalyptus (Eucalyptus globulus), *Peppermint (Mentha Piperita), *Tea Tree (Melaleuca alternifolia) and *Pine (Pinus sylvestris) Essential Oils, Vitamin E (Flax Oil - Linum usitatissimum).
*Certified Organic
Details:
Soothes and relieves coughs and stuffiness.
Natural vapors of peppermint & eucalyptus help clear congestion.
Petroleum-free. Made with pure, organic, natural oils.
Made to order in small batches

Menthol is not intended for use with babies under 2 years old

. Children may find the tingling sensation from menthol irritating. Please test on a small area of skin if known allergies exist.
99% Organic, Vegan, Gluten Free, Non-toxic
Tested on Daniel - and myself - it's really nice!
How to use:
Gently rub on chest, neck or feet as often as needed.  I recommend starting with just a little bit, and adding more if you would like it to a bit stronger.
When using on your feet - put some socks.  
Safety Tip:  For External use only.  If pregnant or breast feeding, ask a health professional before use.  Do not heat in microwave or on a stove.  Do not use in a vaporizer   Avoid contact with eyes.  Keep out of reach of children.  Do not use directly on face.  Store at room temperature.
*These statements have not been evaluated by the FDA. The herbal products sold by Pure Essentials are not intended to treat, prevent or cure disease. Please do your research about properties of herbs before using. Pure Essentials is not responsible for individual use of this product. 
Please consult your doctor if you are uncertain about using essentials oils on your baby. 
EVEN MORE REASONS TO LOVE PURE ESSENTIALS 
Soy Free

No Animal Testing

Gluten Free

Dairy Free

No Alcohol

USDA Organic