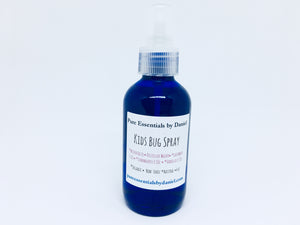 Kids Bug Spray - Organic, Natural Insect Repellent
Regular price $17.95 Sale
No synthetic chemicals, DEET or petroleum products.
Good For the Skin. Not so good for the Bugs.  Pure Essentials by Daniel Kids Bug Spray is a totally organic & natural bug spray repellent. Using pure essential oils to naturally keep bugs, mosquitoes and insects away from you and your family.  This organic bug repellent naturally repels insects with the pleasant aroma of Lavender, Lemongrass, and Vanilla essential oils. This spray contains no DEET, petroleum products, or synthetic chemicals. - it's safe and effective for the whole family! 
Ingredients:  *Organic
*Witch Hazel, Aqua, *Lavandula angustifolia (Lavender) essential oil, *Cymbopogon flexuosus (Lemongrass) essential oil, *Vanilla Planifolia (Vanilla Oleoresin) essential oil, epsom salt
This product has some essential oils that can cause reactions in young children under 5.  The reactions are rare, but they Do exist.  Please make an educated choice when using this product.  While most families feel the benefits of using this as an alternative to DEET far outweigh the risks, we Do want to let you know they exist.