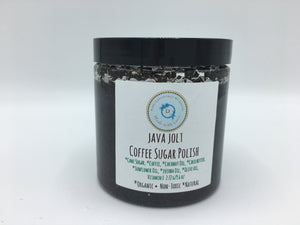 Java Jolt Coffee Sugar Polish
Regular price $27.00 Sale
Hey, we get it. Mornings can be tough (especially after a celebratory night.) Sometimes you need a little more than coffee in your cup before you're ready to say 
Hello, world!
 That's why we created Java Jolt. Made from 100% organic cane sugar & coffee, this super moisturizing polish features our super-special blend of coconut, cocobutter, sunflower and jojoba oils, plus coffee to enliven your senses. It exfoliates while it hydrates, removing dirt and dead skin, while the organic oils leave you softer than silk and ready to conquer the world.
Hand crafted in small batches
Natural & Non-Toxic
Vegan
Ingredients: *Certified Organic
*Cane Sugar, *Coffee, *Coconut Oil(Cocos nucifera), *Coco butter, *Sunflower (Helianthus annuus) Oil, *Jojoba Oil (Simmondsia chinensis), *Olive oil (Olea europaea) &
Vitamin E
Please note that these scrubs do not contain any preservatives, so please try not to introduce water into this product.   If you get water in it – it will grow bacteria and mold.