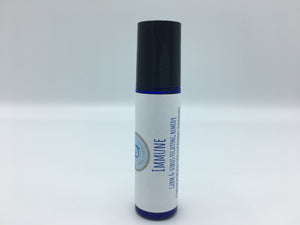 Immune - Germ & Virus Fighting Remedy - 10 ml
Regular price $22.95 Sale
FRESH. REVITALIZING. CLEARING.
*
Relieve symptoms of flu such as colds and cough by rolling on the therapeutic benefits of comforting eucalyptus, warming cinnamon and soothing tea tree
*
Apply to the chest or throat area as needed.
Pick your favourite remedy and roll onto the palm of your hand
Rub both hands together briskly
Cup your hands over nose and mouth and breathe deeply
Hold your breath for a count of three, then release slowly and calmly
Can be applied to the bottom of your feet - put on socks
Can be applied behind your ears too.
Repeat as often as you like
For prolonged use, consult a health care practitioner.
Ingredients:
*tea tree (melaleuca alternifolia)
*eucalyptus (eucalyptus globulus)
*pine needle (pinus sylvestris)
*geranium (pelargonium graveolens)
*rosemary (rosmarinus officinalis)
*peppermint (mentha piperita)
*cinnamon leaf (cinnamomum zeylanicum)
*grapeseed oil (vitis vinifera (grape) seed oil)
*Organic