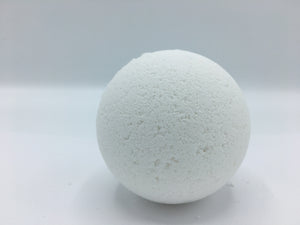 Eucalyptus Mint Bath Bomb 180g
One of our family favourites!
These Minty Eucalyptus Bath Bombs are so heavenly for sore muscles, cold nights or for when you might be feeling a bit under the weather.  Eucalyptus and peppermint oils are great for breathing a bit easier with cold and sinus too. Loaded with coconut oil and cocoa butter, your bathing experience will leave your skin feeling silky soft and hydrated. A little Clary Sage had been added to the mix and it will help soothe feelings of anxiety and will enhance relaxation.  Relax & Enjoy!
Ingredients:
Sodium Bicarbonate (Baking Soda), Citric Acid, *Coconut Oil (Cocos nucifera), *Shea Butter, Epsom Salt, Kaolin Clay powder, SCI - Sodium Cocyl Isethionate Powder, *Eucalyptus (Eucalyptus globulus) *Tea Tree(Melaleuca alternifolia), *Peppermint (Mentha Piperita) and *Clary sage (Salvia sclarea L.) essential oils
*Certified Organic
Handmade with Love!
Made to Order
100% Vegan & Gluten free
 How to Use your Bath Bomb
Step 1:  Get Naked
Step 2:  Fill your tub half way
Step 3:  Drop your bomb in
Step 4:  Get a glass of wine and light a candle
Step 4:  Get in - Enjoy and relax by taking deep breaths - you deserve it.