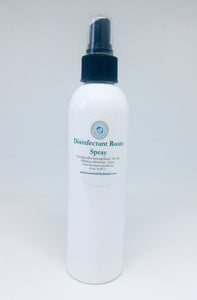 Natural Disinfectant Room Spray - Great, fresh clean scent - 8 oz
Regular price $14.95 Sale
It's an all-natural, non-toxic.  Can sanitize and deodorizes, and even kills mold & mildew.

And it does all of this with a great, fresh clean scent.
natural
non-toxic
tea tree oil has 

anti-fungal and antiseptic properties

lemon oil has 

antiseptic, disinfectant and anti-fungal properties

eucalyptus oil can 

fight off bacteria and

viruses - 

A study published in Clinical Microbiology & Infection suggests that

eucalyptus oil

may have

antibacterial

effects on pathogenic bacteria in the upper respiratory tract, including Haemophilus influenzae, a bacteria responsible for a range of infections, and some strains of streptococcus.




eliminates stinky odors

fights mold & mildew

shines countertops, faucets, and doorknobs
Clean your home and freshen it at the same time with this natural essential oil disinfectant cleaning spray.
Ingredients:  Aqua, Tea Tree, Eucalyptus and Lemon Oil