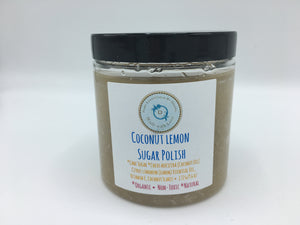 Coconut Lemon Body Scrub
Regular price $25.00 Sale
Coconut & Lemon Sugar Scrub For Radiant Skin
Delicious, hydrating and refreshing, this scrub is perfect for achieving that luxurious glow. Transport yourself to summertime at the beach with this coconut scent.
We use it a couple of times a week because it keeps our skin in tip-top shape, providing nutrients directly to the epidermis layer along with tons of moisturizing benefits.  They can be used on face, body, and (especially) feet, for silky skin.
I've never used a sugar scrub before. What exactly am I missing?
It's simple, really. The first thing you do when you open the jar is to give your scrub a good stir, because the oils come to the top. You want to make sure the scrub is mixed thoroughly before each use to make sure your last scrub from a jar is as awesome as the first.
You can use the scrub in the shower or bath or even at the sink, just make sure to apply to wet skin. Just scoop out a little into your han) and rub onto your wet skin. Sure you can use a washcloth or bath pouf,or anything you want really, to scrub with but we prefer our hands because, hey why not treat them at the same time, right? Scrub until you feel the sugar melt and then rinse off. Since our scrubs cleanse,exfoliate and moisturize in one easy step, you don't need any additional moisturizers or lotions
Made to Order
Handmade
Organic
 Ingredients:
*Organic evaporated cane sugar, *nucifera (coconut) oil,* olea europaea, (olive) oil, *Citrus limonum (lemon) essential oil, *coconut flakes, Tocopherol (Non-GMO, gluten free, *flaxseed oil Vitamin E)
*Certified Organic
Please note that these scrubs do not contain any preservatives, so please try not to introduce water into this product.   If you get water in it – it will grow bacteria and mold.