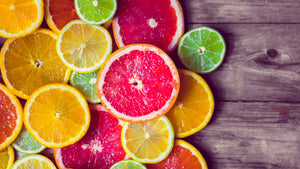 Citrus Lime Burst Aromatherapy Spray Mist
Regular price $17.95 Sale
Need a mood makeover?  Mood can interfere with so many things in a person's life.  It can bring unhealthy emotions and even physical symptoms.  These unhealthy emotions and symptoms can become an unending spiral downhill.  Aromatherapy with essential oils can help!
Citrus Burst Aromatherapy Spray Mist is a perfect blend for uplifting your mood and supporting your well-being.  This exhilarating blend includes sweet orange, lemon, lime, and grapefruit essential oils. 
Sweet orange helps promote peace and happiness. Lime is restorative. Lemon promotes purification and healing.  Grapefruit is refreshing and can bring balance to the mind.  
Next time you are feeling down, shake up this bottle and spray it around your environment. 
You can also use it as a citrus body spray.  Inhale the aroma deeply, think positive thoughts and let the sweet smell uplift your emotions.
Ingredients:  
*Certified Organic
Aqua *Witch Hazel *Citrus limon (L.) Burm.F. (Lemon EO)* Citrus sinensis (Sweet Orange EO) Citrus paradisi (Pink Grapefruit EO from Argentina) *Citrus aurantifolia (Lime  EO), Epsom Salt, Phthalate Free Fragrance