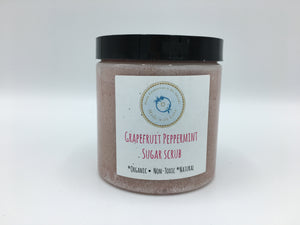 Grapefruit Peppermint Sugar Body Scrub
Regular price $25.00 Sale
A middle note with a medium aroma, Pink Grapefruit essential oil has a fresh, sweet citrus smell that is very characteristic of the fruit. Peppermint essential oil gives a cooling sensation and has a calming effect on the body.
We often don't think about it, but skin is our body's largest organ. It wraps our whole body, protecting us from the harsh effects of the sun, wind, pollution and the many environmental contaminants. So it's important we take good care of it. Over time, the skin on our face and body can take quite a beating from the elements, leaving it looking dull, dry and flaky. There's an easy way to rejuvenate our skin -- exfoliate it!
Indulge in our luxurious beautifully scented grapefruit/peppermint sugar scrub.  Using a scrub 3-4 times a week promotes circulation and lymphatic drainage. Exfoliating provides better absorption of lotions, maintaining youthful and hydrated skin.
I've never used a sugar scrub before. What exactly am I missing?
It's simple, really. The first thing you do when you open the jar is to give your scrub a good stir, because the oils come to the top. You want to make sure the scrub is mixed thoroughly before each use to make sure your last scrub from a jar is as awesome as the first.
You can use the scrub in the shower or bath or even at the sink, just make sure to apply to wet skin. Just scoop out a little into your hand) and rub onto your wet skin. Sure you can use a washcloth or bath pouf, or anything you want really, to scrub with but we prefer our hands because, hey why not treat them at the same time, right? Scrub until you feel the sugar melt and then rinse off. Since our scrubs cleanse,exfoliate and moisturize in one easy step, you don't need any additional moisturizers or lotions
Can I keep my scrub in the shower?
Well, you want to keep it handy that's for sure. But ideally, you should try to prevent getting water into your scrub (remember those nasty bacteria love water!) So NO - don't keep it in the shower.  Our scrubs are totally natural free of preservatives - just good stuff for your skin.
100% Organic & Natural - Tested people and not on animals.
Made to Order - in small batches
Ingredients:
*Evaporated cane sugar, nucifera (coconut) oil,* olea europaea (olive) *oilcitrus paradisi (pink grapefruit) essential oil, mentha piperita(peppermint) essential oil, *Beet Root Powder (beta vulgaris),  tocopherol (Vitamin E). *Organic