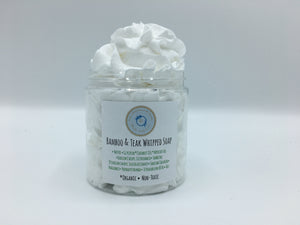 Bamboo & Teak Whipped Bath Foam Soap
Regular price $18.95 Sale
For your special guy!
Whipped Soap - Foaming Soap- Shaving Soap - Body Wash - Whipped Soap 
If you have never tried whipped soap you are in for a treat:) It's smooth, thick, creamy with a soft fluffy texture almost like whipped topping...and it leaves your skin feeling moisturized. It's just a load of soft creamy bubbles, that leave you going WOW! Excellent for dry skin. Just scoop a quarter size onto your washcloth or pouf and lather away.
Our Foaming Bath Butter is Paraben-Free and Propylene Glycol Free. With the demand for skin care products to be as natural and as environmentally friendly as possible.   This is the latest technology in cream soap. It offers both versatility and true luxury. It cleanses while moisturizing, and has a very mild pH of 5.5 - perfect for facial applications.
Details:
Handmade
Made to order in small batches
Tested on people (our friends & family) never on animals
Ingredients:
Glycerin, Aqua, Sorbitol, Sodium Cocoyl Lauroyl Isethionate,  Disodium Lauryl Sulfosuccinate, Sodium Chloride, Levulinic Acid, Potassium Sorbate, *Cocos nucifera (Organic Coconut Oil) Vitis vinifera (Grapeseed Oil), Phalafate-free Fragrance.